Algebra 1 - original series
This algebra series of 5 DVDs combines cutting-edge educational methods with a student-friendly format that is proven to boost math scores. Hailed by leading educators as "the perfect tool for students," Math Made Easy DVD tutorials have been enhancing students' performance for over 25 years. Join the ranks of our 300,000 satisfied users who have cut their algebra study time in half while improving test scores!
Put Your Child in the Driver's Seat
Math Made Easy tutorial DVDs empower students by putting them in control of the learning process. No more struggling to keep up with lightning-fast lessons! Our DVD-based algebra program will take the stress out of learning. Students become active learners by controlling their pace of study and the length of time they spend on each exercise. Pause the program at any time or go back for an additional review. With your child in the driver's seat, he/she will build mastery of algebra skills along with the confidence of success.
Make Algebra Meaningful
What makes our tutorial DVD program unique? While many algebra teachers focus on rote learning and memorization, Math Made Easy focuses on comprehension. Your child will develop a genuine understanding of algebra concepts as required by new federal Core Curriculum guidelines. Dynamic lessons and do-it-yourself exercises build logically upon this foundation of understanding. Watch your child's eyes light up with the "aha" moment of comprehension!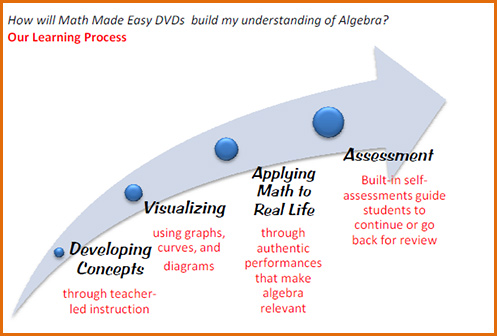 1-2-3 Approach to Solving Word Problems
Our simple step-by-step process takes the challenge out of tough word problems. Students will learn how to systematically:
Analyze a word problem to uncover the question,
Translate the information to mathematical terms, and
Solve the problem algebraically.
Series of 5 Algebra Instructional DVDs contains:
✓

Step-by-step instruction designed by mathematicians

✓

Organized curriculum that introduces essential concepts and gradually advances to more complex math problems

✓

3½ hours of educator-approved content

✓

Integrated real-life examples that build comprehension

✓

Engaging presentations by live instructors

✓

Interactive exercises to master algebra skills

✓

Computerized graphics that help students visualize abstract concepts
Utilized by thousands of students, Math Made Easy Algebra software provides the extra review that many students need to keep up in school. The program is also ideal for in-classroom and homeschooling use. Its versatile format makes it the perfect resource to supplement an existing algebra course or to provide a comprehensive review.
Special Bonus!
Purchase Math Made Easy Algebra DVD Software Program and receive
Free Access to Math Made Easy Testing Sites
with hundreds of practice tests to measure your progress!
Purchase now and let the learning begin!
Actual User Results:
✓

92% went from failing to passing algebra.

✓

87% raised their test score 10 points or more.

✓

78% raised their math grade at least 1 level.

✓

59% raised their math grade 2 or more levels.
Series Includes the Complete Algebra I Curriculum:
✓

Algebraic Terms & Operations, Binomials, Polynomials, Exponents, Order of Operations, Absolute Value Radicals

✓

Solving Algebraic Equations of the First Degree; Inequalities

✓

Factoring and Solving Quadratic Equations

✓

Solving Simultaneous Equations and Inequalities, Algebraically and Geometrically

✓

Verbal Problems; Introduction to Trigonometry.
Who purchases Math Made Easy Algebra DVD series?